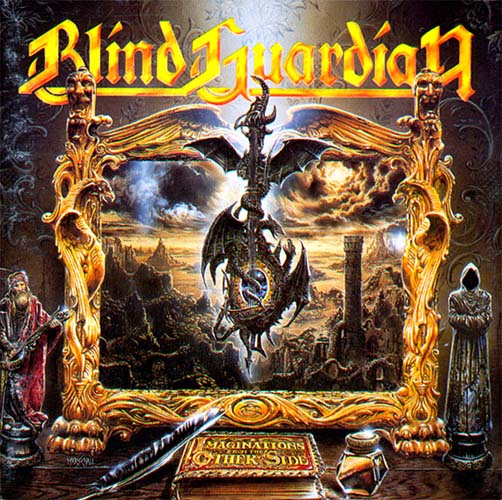 Blind Guardian é uma banda que dispensa comentários e o que mais prende as nossas atenções são os riffs agressivos e um vocal bem incomun de Hansi Kürsch e claro letras bem trabalhadas. Imaginations From The Other Side é o 5º álbum do Blind Guardian e o interessante neste álbum é as obras que ele tem como referências que são "O Mágico de Oz", "Peter Pan", "O Senhor dos Anéis", "Alice no País das Maravilhas", "The Sword in the Stone", "As Crônicas de Narnia" e as histórias de "Corum". Este álbum é tão bom que seria até injusto indicar músicas de maior destaque nele e vou encerrar este post com um trecho da letra da música imaginations from the Other side:

"Onde está a filha do oceano?
Peter Pan estava em Mordor?
Ninguém está lá para manter vivo
Todos estes contos de fadas
Devo retornar à Oz?
Será que encontrarei o "Homem de Lata"?
"Leão Covarde", onde está você?
Sem um cérebro o espantalho está perdido
No meio do lago
Abandonado no mundo real
Deixado no mundo
Sem lugar para devaneios
Vida séria
Eu caio dentro
Eu caio dentro de um buraco escuro
E eu não consigo sair"

Faixas:
01.
Imaginations from the Other Side - 7:18
02.
I'm Alive - 5:29
03.
A Past and Future Secret - 3:47
04.
The Script for my Requiem - 6:08
05.
Mordred's Song - 5:27
06.
Born in a Mourning Hall - 5:12
07.
Bright Eyes - 5:15
08.
Another Holy War - 4:31
09.
And the Story Ends - 5:59